Media
testting
HOMEFRONT The Art of Living September 2012
Having a surplus of space to work with is one of the most exciting and thought-provoking situations a designer can experience. Minimalism isn't a new concept. Architect Ludwig Mies Rohe adopted the famous motto "less is more" to describe his tactic of arranging the numerous necessary components of building so as to create an impression of extreme simplicity. Everyone needs a little space sometimes – Erica Westeroth
Kitchen & Bath DESIGN NEWS - SEPTEMBER 2012
The Cabrits tub from Victoria + Albert gets its inspiration from the Cabrits peninsula on the Caribbean island of Dominica. The bath is crafted from Englishcast, a product rich in volcanic limestone that provides natural insulation to retain heat. The tub's curves fit the body while offering support and comfort.
Kitchen & Bath Design News - 7/12
The Cabrits premium tub from Victoria + Albert takes its name from the Caribbean island of Dominica, which is a natural product of extinct volcanoes. The tub is fashioned from Englishcast, a material rich in volcanic limestone, and features an elegantly curvaceous shape with contours that fit the body for support and comfort. At a maximum water volume of 46.5 gallons, the tub uses less water yet provides a warm soak for a bather.
luxe. Interiors + design July – October 2012
Deauville and Toulouse freestanding bath
The elegant Toulouse freestanding bath from Victoria + Albert keeps water warmer longer due to its unique ENGLISHCAST construction rich in volcanic limestone. Naturally insulating and highly durable. Deauville freestanding bath also featured.
Kitchen and Bath ideas - August 2012
Homeowner Jennifer Powers confirmed the comfort of the Marlborough freestanding bath which was her top priority for the bath. -Designer Kathryn D McGowan
Hospitalitydesign - June 8, 2012

Victoria + Albert unveil their Cabrits tub, crafted from ENGLISHCAST which is rich in volcanic limestone. The tub's shape mirrors the contours of the body, offering improved support and comfort. Cabrits uses less water and heat than conventional tubs.

Winner: Cabrits Bathtub by Victoria + Albert
Those familiar with the island nation of Dominica might discern a correspondence between its topography and this double-dip tub, which happens to take its name from a scuba-diving resort on the island. Fabricated out of a matrix of resin and finely-ground volcanic limestone, its glossy, attenuated walls are hand-finished.
House Beautiful
Interior Designer Karin Edwards 'Dark and light are in dramatic contrast, with Victoria + Albert's sleek Amalfi tub playing off the walnut paneling. That tub niche certainly adds to the romance. It's the focal point. That's a very sexy tub. And you sit up so comfortably because of the tall back. It's a modern take on an old-fashioned Victorian slipper tub.
This Old House
May 2012 "Reinvent your rooms with color"
"I'm an artist and a blacksmith, and Rachel is a floral designer, which explains our appreciation of things handmade in the traditional way" – Once Carter
Arts & Culture, April 2012
Inspired by cubic design, The Edge Collection is suitable for limited spaces and includes a bathtub and 45-vessel basin.
April 2012 Distinctive cubic styling. Deep, double ended luxury in a compact format. Crafted from 100% ENGLISHCAST. (Volcanic limestone freestanding baths)
April 2012 The Ios tub is billed as a "compact masterpiece" for its impressive capacity that requires a comparbly small footprint. Its luxurious, double-ended layout and ultra-contemporary design have made it among the companies most popular freestanding baths. The 59" x 31" tub is crafted from ENGLISHCAST, a naturally white material rich in volcanic limestone that is hand finished by craftsman and beautifully warm to the touch.
April 2012 The Edge collection won the hearts of consumers and designers alike at the Architectural Digest Home Design Show in New York in March. Co-sponsored by the New York Times, the four day show was a huge success.
Washington Examiner March 20th, 2012
"We see a lot of people tearing out their cast iron tubs and replacing them with larger stand alone sculptured pieces that can sit in the middle of the room" says Don Pannell. Freestanding tubs made of volcanic limestone that retain heat better than old fashioned bathtubs are more durable and pliable- so the shapes are more creative and evocative.
March, 2012 Victoria + Albert hosted a party for the new Edge collection at Banner Plumbing Supply. Banner was the Decorative Plumbing and Hardware Association's 2011 "Showroom of the Year." Michelle Henderson commented that more than 75 people came to Banner Supply in Buffalo Grove to get an up close look at the new freestanding bath collection. The edge tub measures 58 7/8 inches x 31 inches and is 23 inches deep and yet the bathing area easily accommodates 6' tall people. The construction of these warm to the touch freestanding bath tubs gives the bathing area that was once afforded only with a six foot tub in less than the 5 foot space. (Simply brilliant design afforded by the tremendous strength of the volcanic limestone)
March, 2012 Some rooms are merely built, while others are impeccably well dressed. "Your home should be like your favorite outfit", says interior designer Cindy Rinfret. It should feel comfortable, yet luxurious, she says-like a perfect cashmere sweater with a pair of flattering jeans.
That philosophy guided the elegantly layered and accessorized design of this 12 x 20-foot bath in Greenwich, Connecticut. This feminine room is part of a suite with separate baths for the husband and wife. It called for a romantic décor-something glamorous but not frilly, soothing yet functional. The result is like a dressing room, with a focus on freestanding furniture… The freestanding tub with its egg-shape design is as much a contemporary sculpture as a place for a quiet soak.
February, 2012 Victoria + Albert's Amalfi tub, which is cast in a single piece from finely ground volcanic limestone mixed with resin. The elongated back gives a modern day twist to the timeless slipper tub design. Whether classic or Contemporary, free standing options are numerous.
December, 2011 Designer Guillaume Gentet … While this old home's façade is traditional to a T, its interior is a prismatic collection of color infused glass vessels… While the owners wanted to make a splash in their master bathroom as well, they also wanted to infuse the space with calming clarity… A deep white soaking tub… furthers the clean and clear aesthetic.
K + B Design News August, 2011 ... Great showroom consultants also direct trusted reps to call on their project's plumber, designer and architect to serve these professionals... Engaging the A&D Community Pays Dividends by Greg Libbey
Today, luxury plumbing showroom traffic has slowed to almost 50 percent of pre-July 2009 levels. So how do good luxury showrooms consistently produce great sales results?
Throughout my career, I've seen many different kinds of showrooms experience success. As a showroom consultant, I've come to understand how two people at desks 10 feet apart could have such different results in the same showroom.
It always seemed that it was the same competitor across town that was showing up on project specifications. These occurrences are not a coincidence, and below is what I have observed from great showroom consultants.
First, the showroom needs to be partnered with the right manufacturers that are taking the hard steps to ensure that all sales originated in their showroom stay in their showroom. Showrooms need to be selective regarding products they display.
Since 2009, due to changes in the market, it appears that many manufacturers have shifted from selective distribution to a commodity distribution model or mindset. The Internet can cause issues as well. These are big, scary scenarios that could cause showroom consultants to sit on the sideline and circle the wagon while trying to protect their project.
However, doing business that way will not produce great results. Showrooms partnering with the right manufacturers who have taken the steps to address and solve these issues still need to take action to produce great results. A key element for consistent growth with the value-added showroom consultant is asking questions that lead to business beyond the current project.
For example, let's say Mrs. Jones' project is $30,000 and will happen sometime in the next six months. I have observed consultants ask Jones to name their plumber, contractor, designer and architect. This typically leads to two or three names. These talented consultants often tell Jones that they want to open lines of communication, provide needed specifications and help side step construction and/or other design issues.
A plumbing showroom manager in Highland Park, IL, told me that one well-done project typically leads to opportunities for three or four additional projects that the plumber, architect and designer will do in the upcoming months. In comparison to the Jones' example, the Highland Park showroom made sure a $30,000 order went smoothly, and it led to around 10 projects with a projected $250,000 plus sales volume.
Great showroom consultants also direct trusted reps to call on their project's plumber, designer and architect to serve these professionals. From personal experience, reps love these opportunities.
Another trend in the Chicago, IL area has been the big remodel/design consumer, who remains active regardless of the economy. These clients engage luxury showrooms before they hire an architect or designer to get cutting-edge design, technology and – more importantly – bigger bang for their buck.
This trend gives showrooms more power and allows them to help shape projects with the best-suited products. Showroom consultants should rejoice that projects are starting in their showroom and take the appropriate steps to communicate early with the other players in the project. This consumer typically takes their project to the designer or architect and has the product selections plugged into the project plan.
For example, a design build firm in Chicago recently completed a Clive Christian-style bathroom with greater customized options and substantial savings utilizing a U.S. manufacturer out of Canton, GA. First, the manufacturer did not sell to the design build firm directly; rather it opted to support a trusted displaying dealer, thus doing what it could do to keep the order at the specifying showroom.
The showroom consultant requested door and finish samples to be sent to the homeowner and communication throughout the process included the homeowner's input. Even doing this as a three-step project, the homeowner secured greater quality and saved thousands of dollars.
Other factors that assist great showroom consultants are manufacturers that define themselves and advertise. The consumer typically researches by surfing magazines or Web sites for trends. One designer I talked with reminded me that everyone likes to make their own bread. If one does not have time, one uses a professional. It's certainly true that it's easier than ever to obtain product information, and this empowers the consumer. Even so, the showroom consultant needs to hug every project's plumber, designer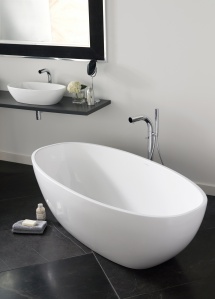 December, 2011 The Barcelona Bath, pebble-shaped, features a rimless, double-ended design that's big enough for two. Crafted of Englishcast (a composite material with finely ground volcanic limestone), it is cast in one seamless piece and has a glossy white solid surface.
The New tub from Victoria + Albert is called "The Edge". Strikingly linear contrasted with soft contoured corners, this double ended design is perfect for two people. To compliment the tub, Victoria + Albert also offers a white rimless basin which mirrors the tub's shape. Both pieces are made of volcanic limestone and hand finished.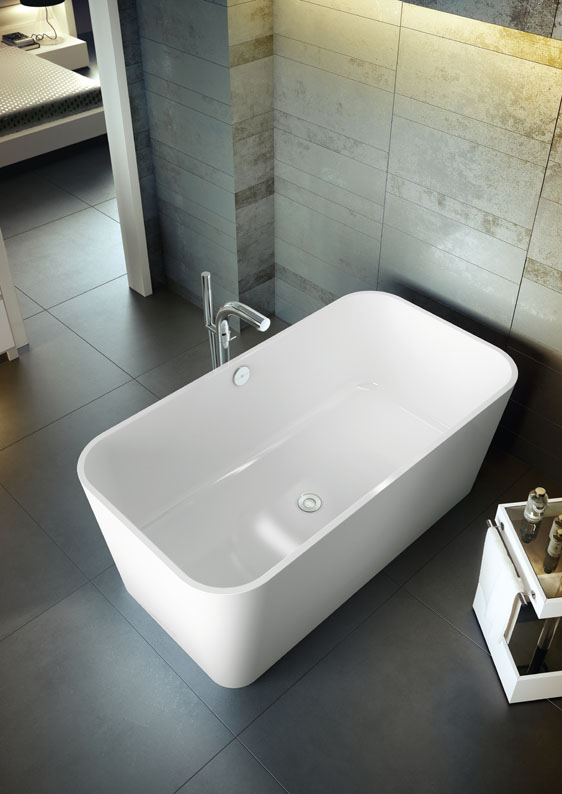 June, 2011 The New tub from Victoria + Albert is called "The Edge". Strikingly linear contrasted with soft contoured corners, this double ended design is perfect for two people. To compliment the tub, Victoria + Albert also offers a white rimless basin which mirrors the tub's shape. Both pieces are made of volcanic limestone and hand finished.
Kitchen & Bath Design News December, 2011 Victoria + Albert presented an award for "Best Showroom Display" to Fixtures Living / San Diego
Victoria + Albert Top 5 Reasons to buy a composite tub blog:
Strength & durability
Good Looks
Warm and cozy
No hassles
Custom options
September, 2011 bathroom + kitchen today
British bathroom specialist at Victoria + Albert launched their latest bath and basin collection, the Barcelona at ISH Frankfurt.
Organic beauty is at the center of the Barcelona's design concept. The collection was inspired by the city's divine urban landscape, world famous for its elegant curves and natural forms created by prominent architects such as Gaudi.
Beautifully pebble-shaped, the 1800 mm long double-ended Barcelona bath is deeper than the company's award winning Napoli bath and is perfect for two people to share.
Together, their flowing curves, symmetry and rimless design, generate a sense of calm to both contemporary and traditional bathrooms. Being made of hand finished Englishcast, Victoria + Albert's own volcanic limestone-rich material, the collection also offers physical peace of mind by being easy to clean, warm to the touch and highly durable.
March, 2012 Architectural Digest show teaser
The Edge Collectiion features striking linear forms that contrast with softly contoured corners. The result is a clean, sophisticated look very much in keeping with the award-winning style that is the signature of the Victoria + Albert brand. Designed to make smart use of limited space, the generous depth of the Edge Bath provides a deep, luxurious soaking experience, while its overall footprint consumes proportionally little floor space. The tub's double ended design has plenty of room for two, while its clean profile creates an architectural centerpiece certain to add drama to any bathroom. The coordinating Edge 45 Vessel Basin is the most compact basin Victoria + Albert has produced to date. Both crafted from Victoria + Albert's signature Englishcast, a naturally white material rich volcanic limestone that is hand finished by craftsman and beautifully warm to the touch.